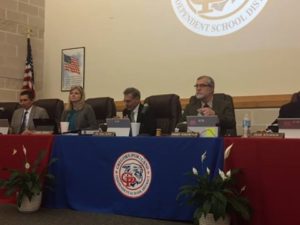 Early Voting for Gregory-Portland ISD School Board members starts
this Monday
.  Six candidates are campaigning for four available at-large seats.
The candidates are:
Reynaldo Rojas, incumbent
Randy Eulenfeld, incumbent
Wesley Heiner, endorsed by Portland Citizens United
Gilbert Cortinas, incumbent
Dean Atkinson, incumbent
Shirley Burkett, endorsed by Portland Citizens United
Portland Citizens United officially endorses Wesley Heiner and Shirley Burkett for G-PISD School Trustee. Our reasoning is not based solely on the fact that each of the four incumbents voted yes to the Exxon 313, but that we feel the Gregory-Portland ISD School Board needs fresh ideas and new perspective. There are a range of areas that need improvement within the ISD.  Academic performance and communication with parents are just two of the issues that need to be addressed. In addition to endorsing candidates, PCU encourages school board trustees to select a new School Board President.
The Portland News published a Q&A with each of the candidates.  Click here to go directly to the Q&A.
Early Voting will take place at the Portland Community Center, 2000 Billy G. Webb in Portland starting Monday April 24th and ending Tuesday May 2nd.
Election Day will be May 6th with Gregory residents voting at Steven F. Austin Elementary and Portland residents voting at the Portland Community Center.