The San Patricio County public forum is a free, educational event to bring together the public, political leaders, neighborhood associations, nonprofits, businesses, and students to learn about and discuss air quality issues in the San Patricio County area. The Texas Commission on Environmental Quality and the Portland Community Center will host the public forum in Portland on Tuesday, Feb. 13, 2018.
2018 San Patricio County Public Forum on Local Air Quality Topics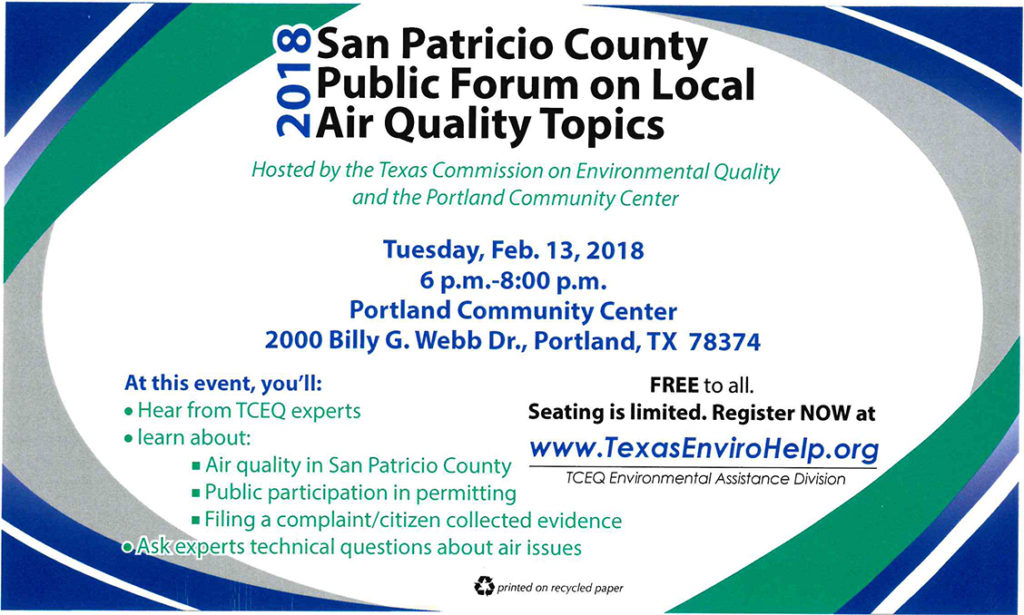 Tuesday, Feb. 13, 2018
6:00 p.m. – 8:00 p.m.
Portland Community Center
2000 Billy G Webb Dr
Portland, TX 78374
Overview
At this event, you'll:
Learn about:

Air quality in San Patricio County

Public participation in permitting

Filing a complaint/citizen collected evidence
Ask experts technical questions about air issues
Registration
FREE to all. Seating is limited. Register NOW.
Questions
If you have questions about this event, please send an email to TexasEnviroHelp@tceq.texas.gov or call 800-447-2827.
Requests for Accommodations

The TCEQ is committed to complying with accessibility laws. If you need assistance in accessing any of our programs or presentations, please contact us at 800-447-2827. If you need an accommodation during this event, we ask that you contact us at least two weeks prior to ensure that we can meet your request.
2018 San Patricio County Public Forum on Local Air Quality Topics hosted by TCEQ