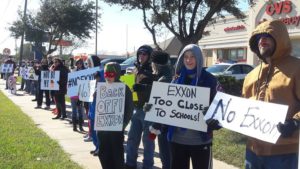 Some have asked why are you still fighting Exxon?  Why do you raise these issues about air and water quality, whooping crane habitat, water temperature, the polyethylene pellets, flooding potential, and everything else?
We do so because Exxon chose to locate where they shouldn't have.  They chose to locate where the complex and all of its operational components will have a devastating impact on our environment and public health.  They chose a location that will cause the most disruption to the communities of Gregory and Portland, including an enormous heavy haul road behind the Bay Ridge subdivision, crossing HWY 181 between Gregory and Portland.  Their massive plant, the 1,000 car railyard, the terminal at La Quinta Channel, and its end product of polyethylene pellets will forever alter the Portland and Gregory communities and the fragile ecological balance between growth and our environment.  And, for what?  Not to supply energy for our cars or to heat our homes, but to manufacture small plastic pellets they will load on rail cars, transport to the west coast, and ship to China and the far east so those nations can melt them down and send plastic products to a "growing middle class in developing third world countries because the market in the U.S is saturated with these plastics" (their own words in a presentation to the Coastal Bend Bays Foundation). 

The Port has already authorized the heavy haul road that will drive a wedge between Gregory and Portland and has been complicit in this highly destructive plan since its inception.  Two weeks prior to Exxon filing its application for an air permit, the Port magnanimously abandoned its plans for a container operation at what will now be the Exxon terminal.  In their press release, they said  "Potential effects from increased traffic and industrial noise from a container operation at La Quinta Trade Gateway is not compatible with our values in supporting the quality of life in the adjoining communities.  We are committed to the La Quinta Trade Gateway development, and continue to explore other low impact uses for the facility."    Two weeks after Exxon's filing, the heavy haul road alignment was prepared under the authority of the Port.  You can see the plans on the Portland citizens united facebook page.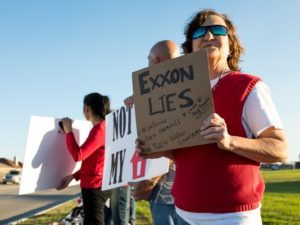 The Port sold us out.  Our County Commissioners sold us out.  But, they still need permits to operate.  The ever- evolving "truth" of this project is coming to light.  If we fail in our attempt to stop this monstrosity, then we should at least try and get them to employ the Maximum Available Control Technology, not simply the Best Technology.  We can insist that the aquatic and bird life is protected to the maximum extent.  We can insist they eliminate the flooding potential.  It is our responsibility as citizens and guardians of our children's future to do so, to raise our voices and be heard.
Errol A. Summerlin, Portland Resident