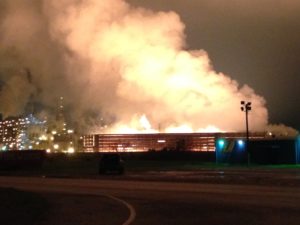 On Tuesday, February 13, from 6 pm to 8 pm, the TCEQ will conduct an air quality forum at the Portland Community Center. We all know of the recent Voestalpine iron ore dust that blanketed neighborhoods. When Exxon and Cheniere are fully operational, over ten million tons of greenhouse gases will be emitted on an annual basis. Those greenhouses gases are in addition to the thousands of tons of Volatile Organic Compounds, Nitrous oxides, sulfur dioxide, carbon monoxide, sulfuric acid, ammonia, and particulate matter that is small enough to enter the lungs in a single breath. Lest we forget that mobil air toxins coming from increased automobile and diesel traffic, a thousand railcars, and 500+ ships traveling up the La Quinta Channel annually will have its own consequences.
This is just the beginning of what the Port and the Regional Economic Development Corporation have planned for the communities of Gregory and Portland.
If you care about the air you breathe, if you care about the health of your neighbors and children, if you or a loved one have asthma and other respiratory problems, you should attend the meeting to obtain a better understanding of how TCEQ does, and does not, regulate these industries. Whether you live next door, upwind, or downwind, staying informed about the consequences of this industrial expansion and encroachment on our lives is important to you, your families and our future.
2018 San Patricio County Public Forum on Local Air Quality Topics hosted by TCEQ