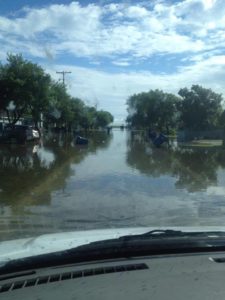 If you live in Gregory and Portland, you know that some streets flood during a heavy rain. We are not talking about tropical storms but rather the common downpours that occur with frontal passage and other events. The pictures accompanying this post are from those typical rains.
Flooding occurs despite the vast farmland that surrounds our communities that absorb some of that rain. The open drainage ditches, particularly the ditch that runs just south of Sunset Drive in Gregory, under 181, and over to Green Lake, simply cannot handle the water at times.
Now, consider that 1,000 acres of farmland, or one and a half square miles, will now be solid concrete as revealed in Exxon's plans. Exxon plans on using these same ditches to drain the stormwaters from their facility. This is particularly bad news for Gregory and subdivisions that border the ditch going to Green Lake, between Northshore and Voestalpine. A 1″ rain will produce 27 Million gallons of water falling on a thousand acres of concrete, water that must flow somewhere. You can do the math for 2, 3 or more inches of rain.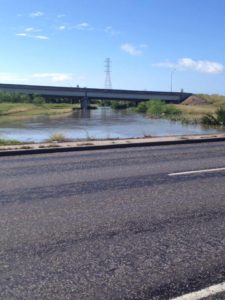 This is a major flood danger for homes and businesses. Portland Citizens United is not the only one concerned. The San Patricio County Drainage District has NOT signed off on Exxon's plan. They believe it will lead to increased flooding potential in Gregory, in west Portland near the site, and Green Lake.
While we encourage you to contact city leaders about this potential problem, we believe it also important for you to consider that the flood waters will contain an unknown amount of contaminants from equipment runoff and potentially pollutants from process water. Think about it.